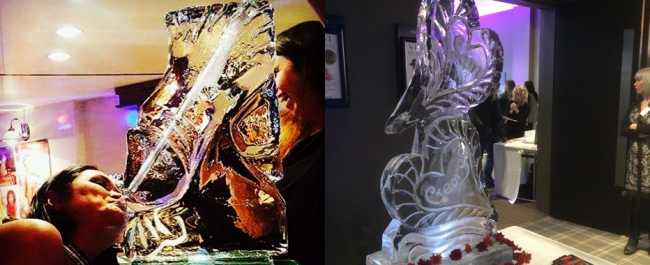 Add the WOW factor with a vodka ice luge!
Whether you are having a BBQ, Birthday, Wedding, Christening etc, a vodka luge is a perfect addition to your event. Why may you ask? Well, an ice luge is a design carved in ice with a luge hole running through the ice for alcohol and soft drinks to be poured through, chilling as it goes. Your friends can race shots with each other on a double ice luge….or the bride and groom can have a photo together catching the first drink through a Heart Ice Luge.
A common misunderstanding is that they are expensive. Compared to many other party essentials they are not – our vodka ice luges start at £150 delivered and £100 collected from our Crawley address! Compare that to a photo booth at £270+…. And taking photos of guests with an ice luge is always great fun.
We have various different sizes of ice luge but we are flexible and can create almost any size… Our aim is to meet our client's expectations. The most popular sizes are:
Extra large 1m x 1m…such as a logo or birthday number double luge
Large 1m x 50cm…such as a birthday number, torso, champagne bottle, twin hearts, and names
Funky 80cm x 50cm…as above but etched in white ice so it stands out in the clear ice
Ski jump 70cm x 50cm…one of the most popular designs and can have a name or number on the side
Party 50cm x 34cm…such as numbers, heart, snowflake, chilly willy, boobs and many more
We have created some amazing ice luges recently for events such as British Army Ball, Luxury Watch for Birthday and Wedding show.
Seahorse Vodka Ice Luge
This Seahorse vodka ice luge for 17 Port Maritime Regiment Christmas Balls was hand carved using chisels and chainsaw; these were great designs that picked up the lighting fantastically. Delivered to Southampton with set up –  great fun and very well received. The cost included the forces discount we offer too. The client reviewed us on Facebook and said –
" Great service provided by Ice Agency for my Seahorse which I ordered for a Mess Function: would recommend them for a professional service and great looking product that was delivered, plus a Forces discount on the price help out a lot. All guests commented on how good it looked and the Luge incorporated into was a hit."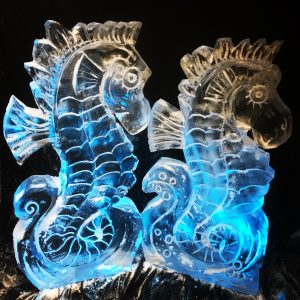 Audemars Piguet Royal Oak Offsure Watch
This ice luge measured 1m x 50cm and was carved for a birthday party in Hampshire. The luxury watch design was a tricky one to carve but using the techniques of etching and carving we were able to give depth and detail to the design.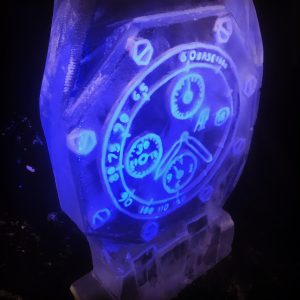 Chilly Willy Ice Luge
Birthday party ice luge Chilly Willy was carved for a party in Cardiff, Wales. Only 50cm high and 34cm wide it's a great size ice luge for smaller parties and lasts a long time. The client reviewed us saying –
" Brilliant service! I had one for my 40th. Highly recommended ".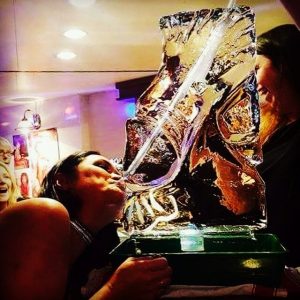 Twin Hear Ice Luge
This is a twin hearts ice luge 1m x 50cm that we created for a wedding show. No different to ones we create for a wedding and lasts 6-8hrs. The names are etched into the ice so they stand out white on the clear ice – very effective and great for photo opportunities. Flowers can be frozen inside the ice but on this one, we placed flowers around the base which was very effective. The ice luge is set up within a drainage tray with the tube running into a container. We also add a tube and funnel into the ice luge hole. Lighting is always included too.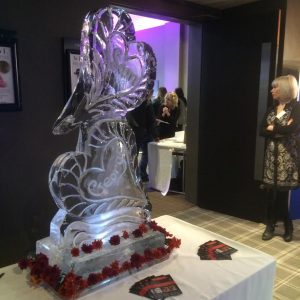 So hopefully we have tempted you with what we can do so why not order a fantastic ice luge for your party…summer is just around the corner and an ice luge is perfect. Feel free to contact our design team to see our most popular designs or why not set us a challenge with your own design concept!
Lastly, check us out on Facebook and Twitter or our most recent reviews on Google.